Competitive advantage
expert industry
knowledge
30 years in the
market
comprehensive
offer
In-house
laboratory
highest
ISO standards
periodic
training
Quality first
Why are our brands recognised all over Poland? The answer is simple. Since the beginning of the company's existence, our absolute priority has been to ensure the highest quality of our products. For this purpose, we have a state-of-the-art research and development laboratory where we develop original chemical agents. We always strive to select the highest quality ingredients while keeping in mind the environment.
This is confirmed by the TÜV Rheinland ISO 14001:2004 "Environmental Management System" certificate awarded to LAKMA. It is a global standard that demonstrates that our actions are related to environmental protection and pollution prevention, in response to the challenges of the modern world and ecology.
Credibility
We want to be reliable for all our customers and business partners. That is why we rely on a certified quality management system. We are proud to have implemented, maintained and continuously improved our Quality Management System in accordance with the International Standard ISO 9001:2008.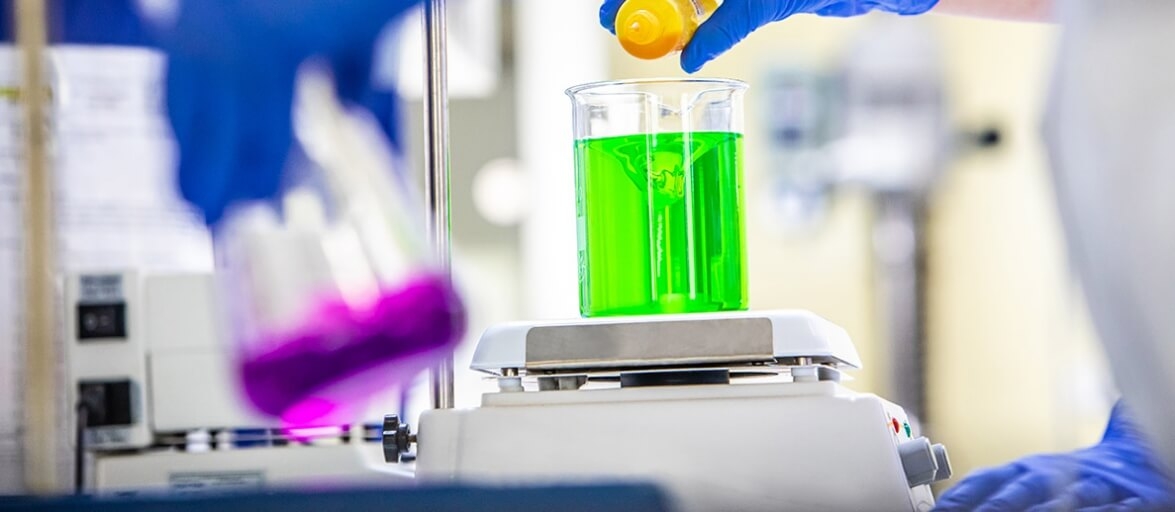 Certificates
The highest quality of Lakma products is confirmed by the numerous certificates that they obtained. These include: ISO 9001 Quality Management System and ISO 14001 Environmental Management System, which are the result of high commitment to production and openness to challenges. It also includes the BRC CP certificate, designed exclusively for companies that meet the requirements for quality of the products offered. Lakma is also a member of the Polish Association of Cosmetic and Detergent Industry, the only organisation in Poland operating on the basis of the synergy of the cosmetic and cleaning products industry, as well as the biocidal products industry.
Infrastructure assets
One of the reasons why LAKMA has been one of the leaders in its industry on Polish and international markets for 30 years is openness to new technologies supporting the industry. We always keep up with the trends, which is why we have been able to build an impressive infrastructure and technical facilities. Most processes in our company are automated and products always reach our customers and business partners on time.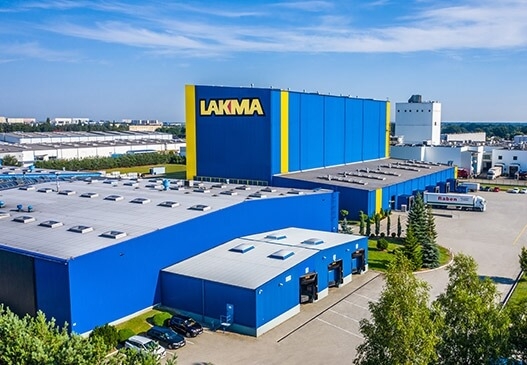 Technical facilities
LAKMA
has a fully automated and one of the highest finished product warehouse in Poland, with a total area of 4500m2. It can store 16 240 pallets and has 14 storage levels. Therefore, we guarantee timely and reliable deliveries to our customers. Lasting business relationships are a key element that determines the value of companies in all markets.
AEROSOL HALL
Reliability and quality must go together. Therefore, when constructing our facilities, we cooperate with qualified engineers who specialise in creating industrial facilities. In cooperation with Wielkopolskie Przedsiębiorstwo Inżynierii Przemysłowej (Greater Poland Industrial Engineering Company) from Poznań, a new LAKMA Aerosol Hall was built in Warszowice. The building has the highest class of fire protection and thus meets all stringent fire safety requirements.
CLEANROOM
When creating professional chemical products, it is imperative to maintain a proper environment related to air temperature and humidity. Such conditions are provided in a special room - the so-called Cleanroom.
TRAINING CENTRE
LAKMA has always cared about broadening the competence of its employees and business partners. Therefore, we created a professional training centre in Zgierz, at ul. 3 maja 4. It is an impressive 192 m2 facility. Inside, there is a modern multimedia room and 12 stands with different types of floors on which you can test our brands' products (i.a.: concrete, parquet, panels, gres tiles, glazed gres tiles, terracotta tiles, PVC, linoleum - each of them covering an area of 7m2).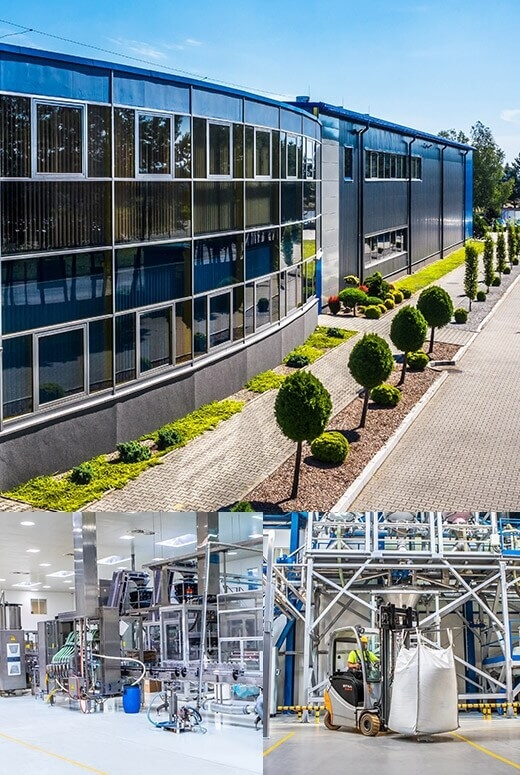 Logistics facilities
We are an innovative leader in logistics solutions for the chemicals industry in Poland. We have a fully automated high storage warehouse with an area of 4,500m2, with space for over 16,000 logistics units. These numbers speak for themselves.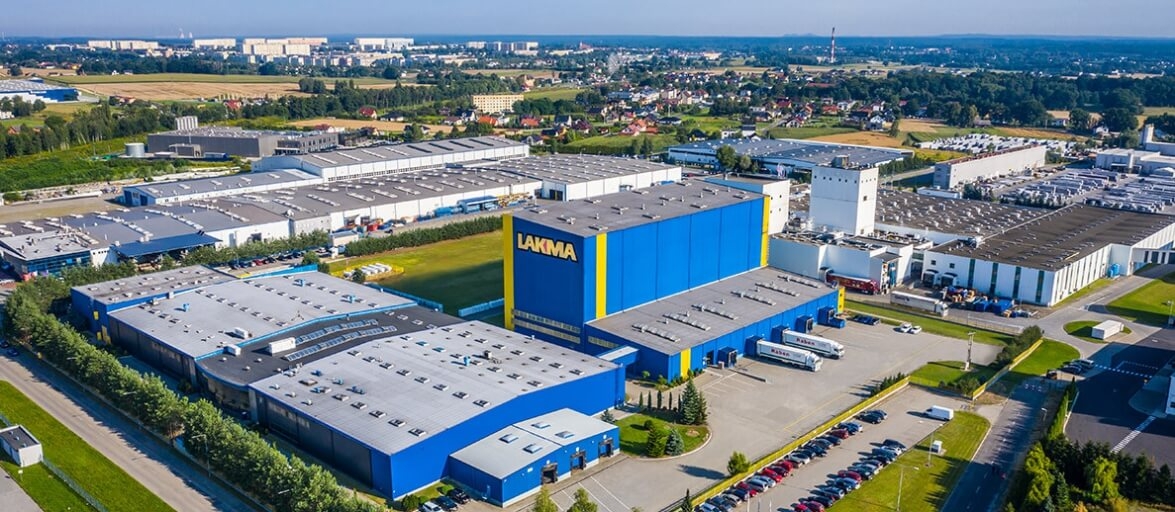 How do we automate logistics processes?
Process management is performed through the WMS system, allowing for unlimited configuration of the requirements of the Logistics Centre Customers. Modern approach to logistics in LAKMA allows us to:
optimise costs of storage and multi-order picking
distribute goods in cooperation with the largest carriers in Europe
employ experienced staff, guaranteeing professional assistance in the most complex processes
This is just another reason to trust us. We have standardised our processes as part of preventive and simulation activities – including in the area of logistics, IT or warehouse automation procedures. As a result, we guarantee our customers the highest quality of service, even in the most unforeseen operational service variants.
Logistics centre in numbers
99.8% on-time delivery of shipments (AB mode)
0.002% market picking errors
98% on-time performance for carrier delivery (AB mode)
R&D zone, i.e. Lakma laboratory
Formulas
The high quality of our products is not accidental. All chemical agents produced by LAKMA are first tested many times during research and implementation works conducted by qualified team of laboratory specialists. Each product series is created based on meticulously selected raw materials and the latest market trends. Such action translates into providing consumers with products of the highest quality and utility standards. We check compliance with European standards using appropriately selected measuring equipment. As a result, we can confidently boast that all product components (including raw materials and packaging) are safe for the end customer and comply with the latest safety and environmental certifications such as ISO:9001:2015, ISO 14001:2015, BRC.
Markets in which we operate
Entirely Polish capital
Since the very establishment of the company, we have been relying only on our own capital, thanks to which we have a direct influence on the development of the national economy and full financial independence, allowing us to implement our own business objectives, in accordance with the developed strategies, created with a view to the needs of our partners and individual customers.