FLORMATIK GRES ALKALI

Alkaline agent for cleaning stoneware tiles

1 L | 10 L | 200 L
FLORMATIK GRES ALKALI is an alkaline product, which, depending on the concentration, is perfect for: heavy duty cleaning, removal of stubborn dirt and everyday cleaning of microporous surfaces resistant to water.
Detailed description and how to use
Downloadable files
Order a test product
Detailed description
Particularly recommended for cleaning stoneware tiles (gres) and anti-slip tiles. FLORMATIK GRES ALKALI is used for manual cleaning, in cleaning machines, and in single-disc
scrubbing machines.
dissolves oil- and fat-based contaminations
deep penetration of pores
excellent surface wetting
perfect also for everyday cleaning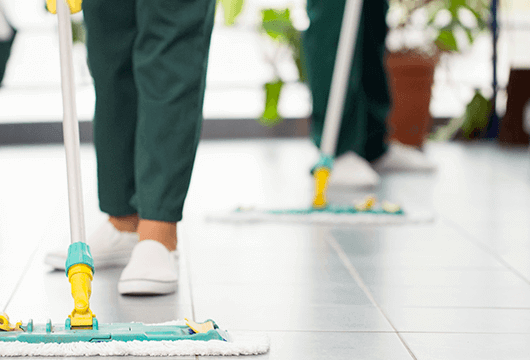 How to use
Concentrate.

Prepare a working solution depending on the intended application and the degree of contamination of surface cleaned.
Heavy-duty cleaning: 10–30% concentration. Spread the solution on the surface and leave for 5–10 minutes to act. Afterwards, use single-disc scrubbing machine for cleaning. Collect the dirt using a vacuum cleaner, rinse with cold water.
Cleaning machine: 1–2% concentration.
Everyday cleaning: 0.5–1% concentration.

ATTENTION!
Do not apply on surfaces sensitive to alkalis.
Downloadable files
Order a test product