PROFIMAX SP 115

Manual dish washing agent - concentrate

5 L
SP 115 is a highly effcient concentrate for manual washing of equipment such as pots, pans, cutlery, tableware and other kitchen equipment made of steel, glass, porcelain and plastics.
Detailed description and how to use
Downloadable files
Order a test product
Detailed description
Effectively removes organic contamination (proteins, fat),
as well as coffee and tea stains. It has a pleasant
citrus scent.
perfect for sparing washing through immersion
very efficient
intended for cleaning severely soiled dishes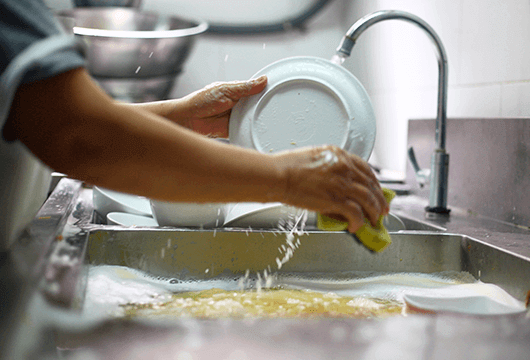 How to use
Concentrate.
Concentration from 0.1% to 1.0% depending on the degree of soiling of the dishes. Sparing washing through immersion: prepare
the working solution with temperature of about 35°C, in one of the kitchen sink chambers, immerse the dishes and proceed to washing. Then rinse with running water and leave to dry.
Order a test product