STRIPPER ULTRA

Polymer removing cleaning agent

5 L | 10 L
STRIPPER ULTRA is a concentrated alkaline agent intended for dissolving old layers of waxes and polymers from water-resistant floor (e.g. PVC, artificial stone, natural stone). Acts quickly by removing the remains of gloss coatings and old dried dirt, such as soot and rubber marks.
Detailed description and how to use
Downloadable files
Order a test product
Detailed description
The agent is characterised by poor foaming and therefore it can be used in single-disc rotary floor machines, as well as for manual cleaning.
a strong alkaline agent
effectively dissolves even the toughest dirt
facilitates removal of old polymer and wax
coatings
has excellent emulsifying properties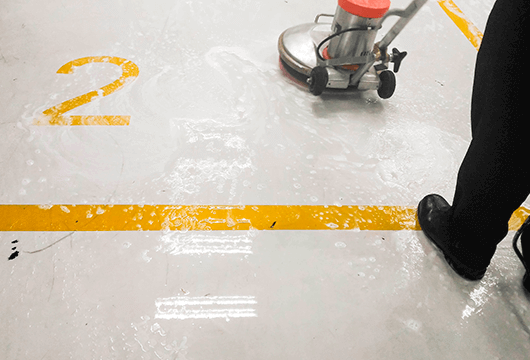 How to use
Concentrate

Concentration from 5% to 20% depending on the degree of soiling. Spread the working solution
prepared on the surface cleaned. Leave for 3–10 minutes. Do not allow to dry. Scrub, remove dissolved
dirt, neutralize the floor with water twice and then dry thoroughly. Use longer contact time and higher
concentrations for heavier soiling.

ATTENTION!
It is not suitable for cleaning linoleum, wood, parquets, panels and surfaces sensitive to strong alkalis.
Downloadable files
Order a test product