CARP POLI

Shampooing agent

1 L | 5 L
CARP POLI is a shampoo intended for regular cleaning of linings, carpets and textile upholstery. It is a concentrated aqueous solution of detergents, solvents, and sorbent in the form of silica.
Detailed description and how to use
Downloadable files
Order a test product
Detailed description
The working solution of the agent generates a high amount of persistent and thick foam characterised by excellent cleaning properties. After application on the surface, the foam penetrates its upper soiled layer, detaching the dirt from the
fibres. After drying, the agglomerates formed in this manner are easy to remove by means of a vacuum cleaner. The advantage of such cleaning is the low dampness of the lining that reduces the drying time and thus makes managing facilities easier. CARP POLI is intended for cleaning with the
use of shampooing machines and single-disc machines
with a shampooing brush or pad, as well as for manual cleaning.
high foaming
good effectiveness at removal of pigmented dirt
no corrosiveness towards fibres
pleasant scent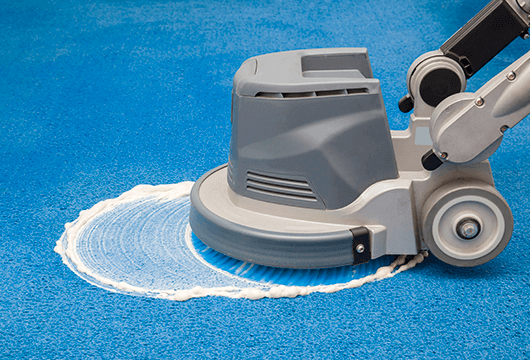 How to use
Concentrate.

Concentration from 6.7% to 10% depending on the degree of soiling. Vacuum thoroughly the surface
to be cleaned. Fill the reservoir of the machine with the solution prepared, clean the surface of the lining, and wait until the foam is dry and crystallised. Next, vacuum the surface cleaned. We recommend using a vacuum cleaner with a turbo brush.

ATTENTION!
Before use, spot test a concealed part of the surface for colour stability.
Order a test product